Powering productivity with everyday technology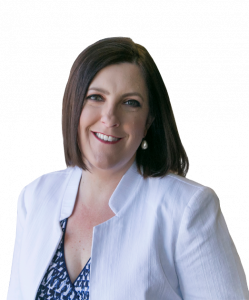 Donna's Story
A former personal assistant to the managing director of a national plumbing supply company, Donna was asked to join a computer hardware company as their training manager.  With no formal training qualifications, just real workplace experience, Donna could relate to the challenges students attending training were experiencing in the real world!
To formalize her knowledge, Donna completed a short course to become an accredited workplace trainer. With no sales experience, in order to build a client base, Donna simply "smiled and dialed," direct mailed potential clients and followed up with phone calls to discuss training options.  Her greatest achievements during this time were negotiating a joint venture with an industry association to provide customized training for industry members at their premises and a two year 4-days a week contract to deliver Microsoft Office training to a large local government.
After two years, the hardware company was liquidated due to a "bust" in the computer hardware space.  Combined with her marriage breaking down and having a two year old son, Donna decided it was time to step out on her own and she established Prime Solutions Training & Consulting.
Initially Donna provided training to clients from the computer hardware business days and began to work as a contract computer trainer for national computer training providers.  During this time she worked with many national and international clients including working with global consultancy Accenture as they rebranded from Andersen Consulting.
Whilst working with clients and during her time as a contract trainer, Donna observed that clients were offered training based on generic skill levels; Introduction, Intermediate or Advanced and with generalized topics that in many instances provided no framework to connect what students learnt in sessions to their workplace. Although she loved helping people learn new skills, she saw a need to make learning more workplace relevant both for the benefit of her students and to achieve a better return on investment in training for clients.
Donna started speaking at conferences and events about productivity with technology and Microsoft Office "how to" tips.  This new approach that focused on real world examples and simple ideas and insights resonated with audiences.  It generated new opportunities to work with organizations and their teams to target needs and develop training solutions to address those needs and connect tools and skills with the real world.
It wasn't long before Donna was driven to take the next step to further formalize her adult education and training knowledge by completing her Bachelor of Training & Development.
Today Donna works with organizations and teams to deliver learning experiences that are productivity focused and directly related to the workplace.
She specializes in webinars, online training, online courses, group coaching programs, consulting and a few one on one coaching clients.
Donna is married with two adult boys.  She loves to read, spend time with her family (including caring for an elderly father) and to travel…. although not much of that happening right now!
Find out more about Donna visit www.donnahanson.com.au or to find out more about her online courses go to www.donnahanson.com.au/courses
Why Donna Hanson
As a professional presenter, Donna inspires audiences to increase business productivity, performance and profits with Microsoft Office programs. Productivity Expert, Donna works with organizations, associations and individuals virtually offering programs that provide a real return on investment. She regularly appears on TV and radio as a media commentator discussing productivity and technology related topics. She works with organisations and their teams virtually to leverage their knowledge and technology to increase everyday business productivity.
With the pandemic impacting on organizational ability to work face to face, businesses had to quickly adapt. Policies and resources were rapidly developed and deployed to minimize disruption and enable teams in all parts of the world to work-from-home or work remotely.
Those with with limited experience in learning and development may seek the type of "one size fits all" approach, but those with foresight will recognize the opportunity to create virtual learning that brings together teams virtually in an engaging and collaborative way that not only builds productivity but creates a solid framework to retain and grow the organization's intellectual capital.
Donna's areas of expertise
Presentations
Donna is a Certified Professional Speaker (CSP), a globally recognized certification for professional speakers, and also a dual certified virtual presenter (CVP) certified by online speaker bureau eSpeakers and Power Women Worldwide.  Her programs can be delivered virtually live or pre-recorded with the ability for extended access to recordings to further maximize investment.
Training
Microsoft Office productivity trainer Donna Hanson inspires and motivates organizations and teams to better manage time, increase productivity and leverage the power of Microsoft Office software.  Her practical "how to" insights, tips and strategies along with her fun and engaging approach to delivery ensures her messages "stick" with audiences creating enthusiasm and momentum about a topic often considered dry and boring.
Online Courses
For those that prefer to learn at their own pace, I offer a range of structured self-paced training courses covering essential business skills such as Data Analysis in Microsoft Excel or application specific webinars for a fast injection of ideas and productivity tips.
Purchase access to one course or join my Productivity Academy for access to all my courses + a monthly live group Q&A zoom call for a monthly per person subscription fee.
Media Commentator
Radio, print, and television seek out productivity expert Donna Hanson for commentary or expert comments on topics or news items related to topics such as email management, email etiquette, workplace productivity, workplace technology risk management or questions related to workplace technology. Find more about Donna as a media commentator here.