Exciting news…..
I was invited to contribute a chapter to Power Women Worldwide's Called to Lead book.
This guide and mentoring book is now available for purchase.
The brain-child of Called to Lead is US leadership expert and Professional Speaker, Pegine Echevarria.
Called to Lead brings together 18 female business experts, myself included, from four countries who provide insights in their areas of expertise for Women who are Called to Lead in Business and in Life.
Called to Lead is a guide and mentoring book containing success strategies designed to provide:
Developmental skills needed to thrive in leadership
Tools for the mind shift needed to success as a leader
Strategies to have it all from thrivers who did it all
How to leverage your influence to make changes in the world
Tips to investing in your natural leadership calling to
manage more complex issues and be confident and effective following your calling to lead.
Whilst positioned for women, many of the strategies are relevant regardless of gender.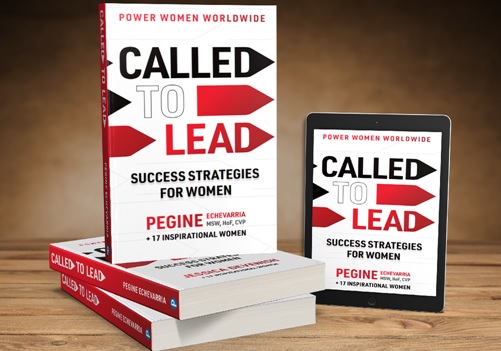 Recommended Retail price on Amazon is US$21.95. (Approx A$31)
Purchase 1 copy – A$25 inc GST
Receive free delivery, anywhere in Australia
Prefer the eBook version?

No worries.
Purchase from the Amazon Kindle store in Australia, click here or
purchase from the Amazon Kindle store in the US here.
Want books for your team or organization?
Take a look at our bonuses for larger orders.
When you click submit, your order will be sent to us and we will raise and invoice and let you know when your order is dispatched.
Want 10 or more copies?
Select from the list below to see the bonuses