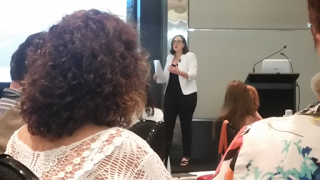 The very technology that was supposed to make our life easier has in fact created another layer of complication, more work, more stress, more frustration.
If that's a sign of your world today, maybe what you need to do is stop, sit down and think about what are the 1, 2 or 3 key things that would make a difference for you?
Is it Word?
Is it the fact that you have repetitive documents and you've never made the time to sit down and create some templates?
Is it Excel? 
Where you keep working on an existing spreadsheet but you really don't understand the formulas?
These things, if you take 5 minutes or even 10 minutes once a month just to build your mental muscle around these areas.
Pick a topic for the month and focus on that in Word or Excel, where ever your pain point is.
Over the course of a year, that will be twelve new pieces of information that are relevant to you.
If you want more, why not sign up for my free monthly productivity pointer, a video tip, trick or shortcut in Word and Excel designed to help you work SMARTER and not HARDER with technology.
Sign up at www.primesolutions.net.au