You'll always find someone on the phone at parties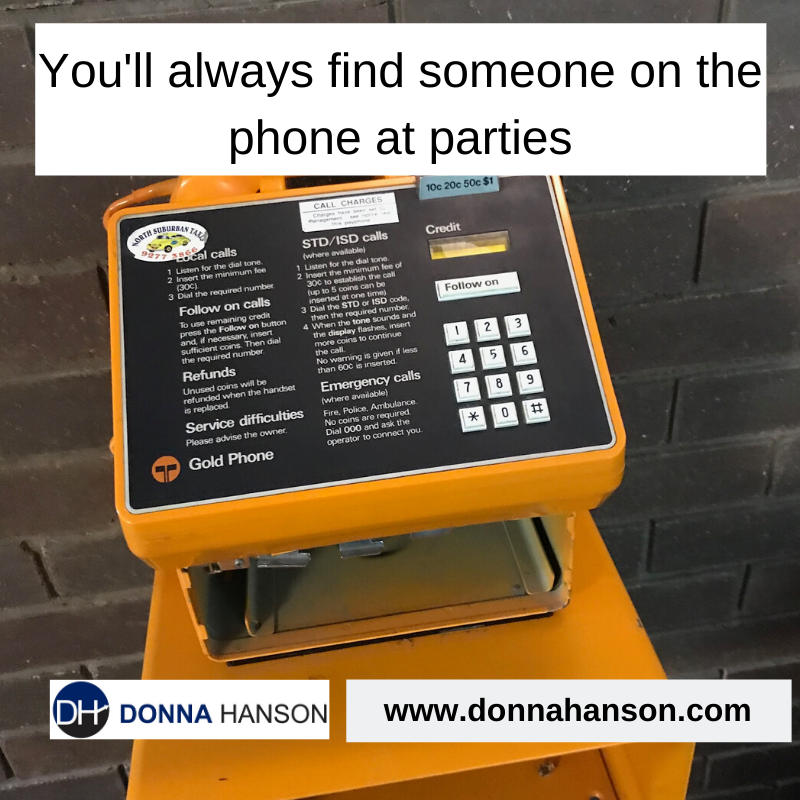 In 1978, Jona Lewie released a song called You'll always find me in the kitchen at parties!
I think today, it that song would be You'll always find people on the phone at parties!
I went to a friend's house recently to connect with someone who was visiting for a couple of weeks from overseas. There were about 15 people there when I arrived, sitting around, chatting, having a few drinks and eating some snacks. During the evening, I was totally surprised by the number of people who, when pings sounded from phones, reached into their handbag or their pocket to see if it was their phone! If it was, every, single one of them proceeded to take their attention away from the conversation and focus on their phone.
The challenge today is the brain isn't wired to understand the difference between the attention of somebody who is directly in physically in front of us and the attention of somebody who's on the phone or who sent a text message.
When someone rings and you pick up the phone, the receiver usually just starts a conversation.
They have no idea what is happening around you, they just assume you're ready for the conversation, unless you tell them otherwise, or unless of course you simply DON'T ANSWER THE PHONE.
If you're the person calling, you might get a sense that you haven't caught the person on the phone at a good time and then may offer to call back or have them call you when they are free.
The challenge is we trying to multitask and when we do we often don't do any of the tasks well or we miss out on something important.
It's like Pavlov's dog. Where the "bell" or ping of a message or call is sounded and as a result you ended up with distraction.
Now I don't know about you, but when I'm talking with somebody and they're constantly looking at their mobile phone. It makes me feel like I'm less important.
So, next time you're tempted to answer your phone at the dinner table, or whilst sharing coffee with a friend, ask yourself what message are you sending today by not giving those important to you, your complete an undivided attention for a few moments?
Donna Hanson is a productivity speaker and trainer who works with organisations and their teams to leverage technology to increase productivity and reduce risk, stress and frustration on everyday tasks.  She presents at virtually or in-person (just not right now!) conferences, professional development days and in-house workshops.  To see if Donna is the right fit for your next event, click here.