Brain Dump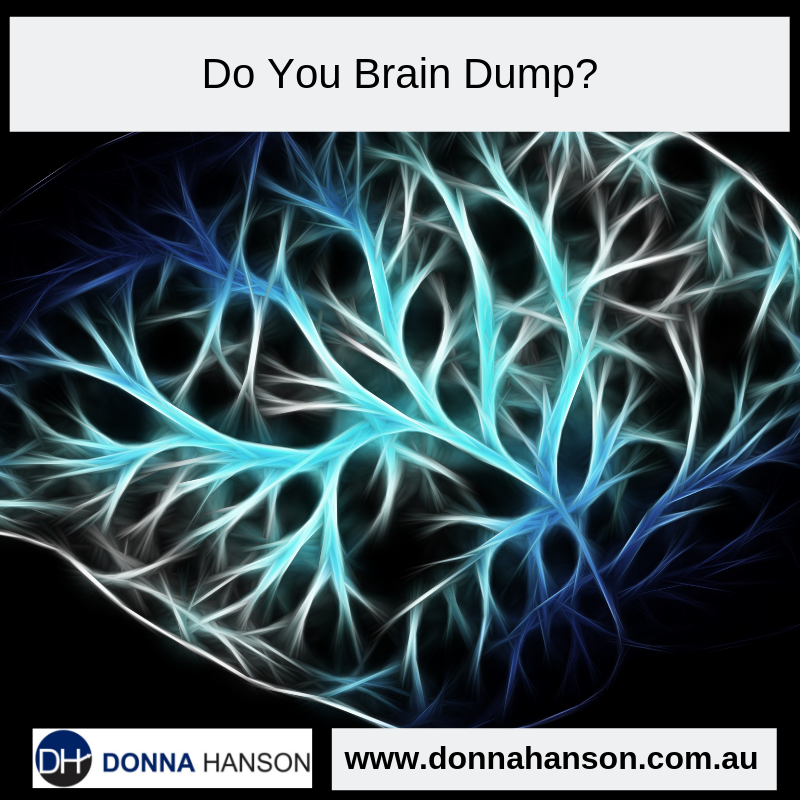 With so many tasks, expectations and deadlines it is easy for things to fall through the proverbial gaps if you don't have a strategy for collecting, sorting and categorising the importance of tasks to be done.
When you don't have a strategy, or it is very loose, the results can vary, from missing important deadlines, being unprepared for meetings or worse, feeling anxious and stress resulting in grumpiness when you get home or trouble sleeping.
Whilst working with a global brand we explored the concept of a brain dump.
A brain dump is simply an allocated block of time where you think of everything you need to do and dump it out of your brain. It is a concept shared by David Allen, author of Getting Things Done.
It can be done on using a task list in your email program, on paper, or post it notes or any other method of capturing and storing ideas such as Evernote or even via recording your voice on your smartphone.
Dumping the items swirling around in your head has several benefits.
It releases the fear of forgetting something that can make you feel stressed. A bit like when you know you have 5 items to pick up from the supermarket on the way home, you haven't written them down and you have 4 in your hand at the check out!
By releasing your mind from having to remember the to do items, you can now focus on what's next, which might be prioritizing and scheduling what needs to be done when based on importance and urgency.
It can also make you feel less overwhelmed. Ever felt like you had so much to do but when you actually made a list it didn't seem so bad after all?
Brain dumps can be done anytime, but the time I find the most effective is at the end of the day. It enables me to "close the loop" on any tasks I wasn't able to complete during the day, work out what other priorities I have and enable me to leave my office without feeling like I have forgotten something or overwhelmed by what I think I need to do when I get in the next morning.
The benefit is when I go home, I'm home! I can relax and enjoy time with my family and friends. I can sleep because I'm not worried about forgetting something I need to do the next morning.
What do you do to stop you from feeling overwhelmed by the volume of items on your to-do list?  
Donna Hanson is a productivity speaker, trainer and educator who works with organisations and their teams to get them off technology and back to the things that matter.  To find out more about Donna's conference presentations, workshops or programs, or how she can help you and your team, click here.