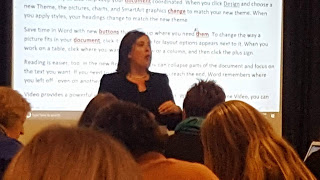 I'm often told by clients "I don't need help with Microsoft Word", well let me ask you a question, when was the last time you looked at a document and found a spelling mistake and all of a sudden you made a decision that you weren't going to deal with that company, that's of course if you had a choice!
Now these days, so many judgements are made upon every first impression, so what's your documentation saying about you and your organisation?  Are you struggling with spacing out your documents, keeping them consistent etc.
You can even use simple tools like Autocorrect or Quickparts to quickly and easily insert data into your document on a regular basis to save you having to do so much stuff.
So why don't you take a look at what is available in Word that can help you streamline and professionalise your documents.
Want to know how Donna helps organisations increase productivity, performance and profits with everyday technology?  Visit www.donnahanson.com.au