The 4-Hour Work Week's Concepts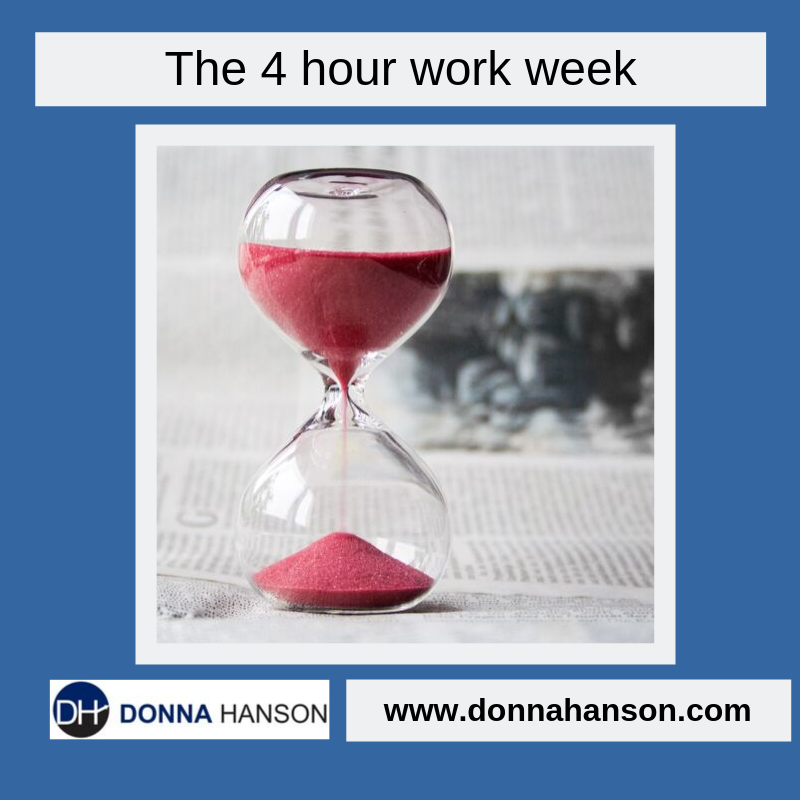 Whilst Tim Ferris' The 4 Hour Workweek book got people talking about building a business in which you work only 4 hours a week, the four steps in the book can easily be applied to help improve productivity and workflow in any business.
Step 1 of the 4 Hour Work Week is D for Definition.
In the context of an owner, manager or team member in any business, defining where we are going and what we need to do is important. Lewis Carroll's, Alice in Wonderland quote of "if you don't know where you are going, any road will get you there." springs to mind.
Define what your realistic desired outcomes for the week are and record them either electronically or physically, whatever works for you.
Step 2 is E for Elimination
In business there is often stuff that is just done, because that's what we do every Tuesday for example. Is there a regular meeting that no longer has a purpose that can be cancelled? Are there meetings in your week that could be combined reducing lost working time?
Identify what you can eliminate in your week that will free up time for the outcomes you want to achieve this week and eliminate them.
Step 3 is A for Automation
What are you doing that is the same every single time? Are there repetitive emails you send that you could create a Rule in your email program to do? Are there documents you redo that could be automated into templates? Is there a spreadsheet that you could fast track using a macro?
Identify what you could automate in your week's activities and allocate time for the actions needed to automate them.
Step 4 is Liberation
Once you've identified where you are going, eliminated the unnecessary and worked out what can be automated and start (or even finish) automating it, you are now in liberation mode. The released space will enable you to step back and review your workload enabling you to start working on longer plans and task tasks to achieve success in your role.
—————————————————————————————————————-
Donna Hanson is a productivity expert who believes everyone deserves the know how to get back to doing the things they love.  Follow her on LinkedIn, Twitter, Facebook or her YouTube channel for more thoughts, or book her to speak to your team in 2020.  Email enquiries@donnahanson.com.au